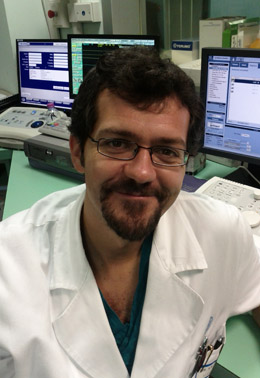 Antonio Maria Leone, MD, PhD, Department of Cardiovascular Medicine,Catholic University of the Sacred Heart, Largo A. Gemelli 8, 00168 Rome, Italy.
Training and Education
Antonio Maria Leone graduated cum laude at the Catholic University of the Sacred Heart on 07/20/2000 discussing the thesis "The C807T gene polymorphism of platelet glycoprotein Ia in patients with myocardial infarction as first manifestation of ischemic heart disease."
In February 2001 he was admitted to the Postgraduate Training in Clinical Cardiology at the Catholic University of the Sacred Heart Gemelli under the direction of Prof. Attilio Maseri first and then of Prof. Filippo Crea. On 3/11/2004 he completed his Postgraduate Training in Clinical Cardiology with laude discussing the thesis entitled "The Rigenera study: G-CSF as mobilizing stem cell therapy in acute myocardial infarction."
In February 2008, Dr. Leone completed his Ph.D. in Molecular and Cellular Cardiology at Catholic University of the Sacred Heart with a thesis entitled "Clinical Significance of the spontaneous or pharmacologically induced mobilization of bone marrow derived stem / progenitor cells in Patients with Ischemic Heart Disease."
Clinical Activity
Dr. Antonio Maria Leone is an expert interventional cardiologist and from December 2005 to date was the author of more than 3000 procedures, the majority of them through the radial approach, including complex PCI, such as unprotected Logs , Chronic Occlusions, Bifurcations, primary PTCA in the course of cardiogenic shock. He is part of the interventional team available for primary angioplasty during acute myocardial infarction. He has mastered the use of complex devices as directional and rotational atherectomy, lasers, Thromboaspiration catheters and distal protection systems. It is able to implant ventricular assist systems such Impella or balloon pumping, even in emergency situations. He has a special interest in coronary physiology and invasive evaluation of coronary stenoses in particular by pressure wire. In that regard, He is the author of a protocol for standardization of vasodilator therapy with nitroprusside or adenosine, which is currently used in the Cath Lab and is going to be published on international peer reviewed journals. He gained a particual expertise in the management of arterial and venous vascular access, both radial and femoral, including the use of percutaneous closure systems with both collagen suture. By virtue of is competence in the field of acute coronary syndromes is particularly interested in the pharmaco-invasive approach. In that regard, he is taking part of the in multicenter study named Reopen-AMI trial currently underway. He is 'member of the Italian Society of Invasive Cardiology (SICE-GISE) and the European Society for Percutaneous Interventions (EAPCI)
Research Interests
Dr. Leone has worked in the research field of acute coronary syndromes, with a particular interest in coronary thrombosis, particularly in relation to the genetic aspects of this, myocardial apoptosis and stem cells, resulting author and coauthor of several studies published in international scientific journals (see below ) and presented to the major national and international cardiology conferences. In particular, Antonio Maria Leone as the first author presented several oral presentations and posters at conferences of the American College of Cardiology (2002, 2003, 2005, 2009), the European Society of Cardiology (2002, 2004, 2005, 2006, 2010), Italian Society of Invasive Cardiology (2010), Euro PCR (2011) and CRT (2011). In December 2003 he won the third prize of the Young Researcher Award with a presentation entitled "Spontaneous mobilization of CD34 + bone marrow-derived stem cells after Acute Myocardial Infarction" at the annual Congress of the Italian Society of Cardiology. In 2004 it was again ranked among the top 10 competitors in this same award for the abstract entitled "Granulocyte-Colony Stimulating Factor in the Acute Myocardial Infarction (The Rigenera Study)." He is currently focusing its scientific interest on the mechanisms of spontaneous mobilization of stem cells from bone marrow, the effect of circulating progenitor cells on post-infarction left ventricular function and the clinical use of growth factors in patients with acute myocardial infarction. In 2009 the European Heart Journal has published the expert review by Antonio Maria Leone et al. entitled "From bone marrow to the arterial wall: the ongoing tale of endothelial progenitor cells ".
He is reviewer for numerous peer-reviewed journals including Circulation, European Heart Journal, Heart, American Journal of Cardiology and International Journal of Cardiology
Finally Dr. Leone is author and coauthor of several papers in the field of percutaneous treatment of coronary artery disease with particular interest in acute coronary syndromes. Currently He is focusing its interest on contrast nephropathy (being Principal Investigator of the BINARIO registry, recently presented at CRT) and the functional assessment of coronary stenoses.