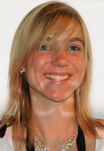 Linda W. Van Laake, MD
PhD is Assistant Professor at the Department of Cardiology of the University Medical Center Utrecht and the Hubrecht Institute Utrecht, the Netherlands. In addition, she holds a position as a resident in Clinical Cardiology.
After obtaining her Medical Degree cum laude from Maastricht University in 2004, she started a PhD program at the Hubrecht Institute and University Medical Center Utrecht under the supervision of Prof. C.L. Mummery and Prof. P.A. Doevendans, studying stem cell transplantation for cardiac regeneration. The focus was on human embryonic stem cell (HESC)-derived cardiomyocytes, which she found to improve cardiac function depending on maturation, follow-up time, graft size, neovascularization, paracrine effects, and fibrotic reaction. For this work, she won the Einthoven Dissertation Prize for the best thesis in cardiology of the year 2008.
In 2007 she received the ICIN Fellowship for her research proposal on cardiac progenitor cells and microRNAs in heart repair, and started her position as a post-doctoral researcher with Prof. D. Srivastava at the University of California San Francisco. Here, she generated Nkx 2.5-GFP reporter induced pluripotent stem cell (iPSC) lines, which were the basis for a comparison of the genetic variance of iPSC- and ESC- derived cardiac progenitors. In addition, after setting up a mouse cardiac surgery lab at the institute, she explored the function of an anti-apoptotic microRNA (miR-24) in ischemic mouse hearts.
In 2011 she was awarded a Veni grant by ZonMw/Netherlands Organization for Scientific Research to investigate circadian rhythms in cardiac regeneration. Overall, her main research interests concern molecular and cellular mechanisms in cardiac repair and neovascularization.
She is also a Nucleus Member of the Working Group on Cellular Biology of the Heart, European Society of Cardiology and a Member of the Young Health Council, an advisory body the government and Parliament on the current level of knowledge with respect to public health issues and research.