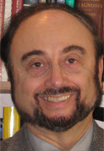 Dr Simon Rabkin is a Professor of Medicine in the Division of Cardiology at the University of British Columbia (UBC). He graduated with an MD from the University of Manitoba. He did post graduate training in Internal Medicine and Cardiology at the University of Toronto, University of Cincinnati and Emory University. His research interests are in the determinants of cardiovascular disease and its therapy. His research interests and activities have spanned the range from basic science, clinical investigation, clinical trials and epidemiology. He has published over 200 scientific papers or book chapters. He has served on many grant review committees. He has served on many Canadian consensus conferences for the development of best practice guidelines for Canadian Physicians. He is the current chair of the subcommittee on the pharmacologic management of patients with hypertension and cardiac disease for the Canadian Hypertension Education Program (CHEP). Dr Rabkin is a past president of the Canadian Hypertension Society and was the President of the 23rd Scientific Meeting of the International Society of Hypertension in 2010.
Some recent Publications:
Rabkin SW. The role of interleukin 18 in the pathogenesis of hypertension-induced vascular disease. Nature Reviews Cardiology 2009: 6:192-199.
Rabkin SW. Lodhia P. Luong MW. P38 MAP kinase in valve interstitial cells is activated by angiotensin II or nitric oxide/peroxynitrite, but reduced by Toll-like receptor-2 stimulation. Journal of Heart Valve Disease 2009;18: 653-661.
Rabkin SW, Lodhia P. Stearic acid-induced cardiac lipotoxicity is independent of cellular lipid and is mitigated by the fatty acids oleic and capric but not by the PPAR agonist troglitazone. J Exp Physiology 2009;94: 871-887.
Rabkin SW, Klassen SS. Metalloporphyrins as a therapeutic drug class against peroxynitrite in cardiovascular diseases involving ischemic reperfusion injury. European Journal of Pharmacology 586: 1-8, 2008.
Rabkin SW Endogenous kappa opioids mediate the action of brain angiotensin II to increase blood pressure. Neuropeptides. 41: 411-419, 2007.
Rabkin SW. Epicardial fat: properties, function and relationship to obesity. Obesity Reviews. 8: 253-261, 2007.
Rabkin SW. The association of hypertension and aortic valve sclerosis. Blood Pressure. 2005; 14:264-272.