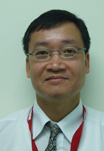 Dr. Kwok Ming HO is an Intensive Care Specialist at Royal Perth Hospital and a Clinical Associate Professor at School of Population Health, University of Western Australia. He is a Fellow of Royal College of Physicians and Surgeons of Glasglow (F.R.C.P.), Australian and New Zealand College of Anaesthetists (F.A.N.Z.C.A.), Hong Kong Academy of Medicine (F.H.K.A.M.), and College of Intensive Care Medicine of Australia and New Zealand (F.C.I.C.M.). He has completed a Postgraduate Diploma in Echocardiography at University of Melbourne, a Master of Public Health (M.P.H. major in epidemiology) with first class honour at University of Auckland and a Ph.D. at University of Western Australia.
Dr. Ho was awarded with Don Harrison Medal in 1995 (best candidate of the year in the final intensive care fellowship examination), Formal Project Prize Medal in 1997 (The best A.N.Z.C.A. trainee project of the year), Gilbert Brown Prize Medal in 2003 (The best research project of the year by an A.N.Z.C.A. fellow), Best Paper Award of Year 2005 (first author, Anaesthesia & Intensive Care) and Best Research Paper of the Year 2008 (second author, CORE A.N.Z.I.C.S.).
Dr. Ho's research interests include haemodynamic monitoring, clinical epidemiology and evidence-based medicine. He has published over 100 peer-reviewed articles and is a reviewer for A.N.Z.C.A., National Heart Foundation, A.N.Z.I.C.S. research grants and >30 medical journals including Lancet and Annals of Internal Medicine. He is an Editor in Intensive Care for Anaesthesia & Intensive Care and a member of the Editorial board of Scientific Medicine and Journal of Non-invasive Mechanical Ventilation.