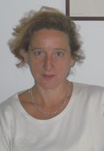 Dr Rita Rezzani received is PhD in Phisiological Sciences in 1990 from the University of Milan, Italy; then she moved to University of Brescia (Italy) where she go in her scientific carrier.
Her main themes of research were and still are:
(1) study of mechanism of different natural antioxidant interaction with free radicals and the resulting products in different experimental conditions; (2) study of cardiovascular alterations; (3) study of biomarkers involved in the development and progression of cardiovascular diseases; (4) study of the effects of immunosuppressants such as Cyclosporine A; and (5) study of neuronal pathway involved in pain transmission.
Scientific Contributions: She is author of 133 papers in extenso and 200 abstracts for national and international congress.
Scientific and Professional Activities: She is Editorial Board member of the journal Acta Histochemica and she is the member of several scientific societies including Histochemical Society and Società Italiana di Anatomia. She is treasurer of Società Italiana Studio Dolore.
Moreover, she is referee of the following journal: - Pharmacology Research; - Clinica Chimica Acta; - Journal of Pharmacy and Pharmacology; - Journal of Pineal Research; - Anatomia, Histologia, Embriologia;- Atherosclerosis; - AJP-Gastrointestinal and Liver Physiology; - Environmental Toxicology and Pharmacology; - Fundamental & Clinical Pharmacology; - Basic & Clinical Pharmacology & Toxicology; - Journal of Cellular and Molecular Medicine; - Journal of Cellular and Molecular Medicine; - Progress in Neurobiology, Current Urology.
Accademic Appointments: Full Professor and Chair of Human Anatomy at Medicine Faculty, University of Brescia (Italy).
Selected Publications, max 5 publications:
1 - Burgess A, Li M, Vanella L, Kim DH, Rezzani R, Rodella L, Sodhi K, Canestraro M, Martasek P, Peterson SJ, Kappas A, Abraham NG.Adipocyte heme oxygenase-1 induction attenuates metabolic syndrome in both male and female obese mice. Hypertension. 2010 Dec;56(6):1124-30.
2 - Cao J, Sodhi K, Inoue K, Quilley J, Rezzani R, Rodella L, Vanella L, Germinario L, Stec DE, Abraham NG, Kappas A.Lentiviral-Human Heme Oxygenase Targeting Endothelium Improved Vascular Function In Ang II Animal Model of Hypertension.Hum Gene Ther. 2010.
3 - Rizzoni D., De Ciuceis C., Porteri E., Paiardi S., Boari G.E., Mortini P., Cornali C., Cenzato M., Rodella L.F., Borsani E., Rizzardi N., Platto C., Rezzani R., Rosei E.A. Altered structure of small cerebral arteries in patients with essential hypertension. J Hypertens, 2009, 27(4), 838-45.
4 - Rezzani R., Rodella L.F., Fraschini F., Gasco M.R., Demartini G., Musicanti C., Reiter R.J. Melatonin delivery in solid lipid nanoparticles: prevention of cyclosporine A induced dardiac damage. J Pineal Res., 2009, 46, 255-61.
5 - Inoue K., Sodhi K., Puri N., Gotlinger K.H., Cao J., Rezzani R., Falck J.R., Abraham N.G., Laniado-Schwartzman M. Endothelial-specific CYP4A2 overexpression leads to renal injury and hypertension via increased production of 20-HETE. Am J Physiol Renal Physiol., 2009, 297(4):F875-84.
6 - Rizzoni d., Pasini E., Flati V., Rodella L.F., Paiardi S., Assanelli D., de Ciuceis C., Porteri E., Boari G.e., Rezzani R, Speca S., Favero G., Martinetti S., Toniato E., Platto C., Agabiti-Rosei E. Angiotensin receptor blockers improve insulin signaling and prevent microvascular rarefaction in the skeletal muscle of spontaneously hypertensive rats. J Hypertens. 2008, 26, 1595-601.
7 - Saliez J., Bouzin C., Rath G., Ghisdal P., Desjardins P., Rezzani R., Rodella L.F., Vriens J., Nilius B., Feron O., Balligand J.L., Dessy C. Role of caveolar compartmentation in endothelium-derived hyperpolarizing factor-mediated relaxation: Ca2+ signals and gap junction function are regulated by caveolin in endothelial cells. Circulation, 2008, 117, 1065-74.