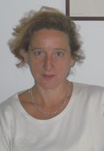 Rita Rezzani, PhD, Professor
Anatomy Section, Department of Biomedical Sciences and Biotechnology, Viale Europa, 11, 25123 Brescia Italy
Dr Rita Rezzani received is PhD in Phisiological Sciences in 1990 from the University of Milan, Italy; then she moved to University of Brescia (Italy) where she go in her scientific carrier.
Her main themes of research were and still are:
(1) study of mechanism of different natural antioxidant interaction with free radicals and the resulting products in different experimental conditions; (2) study of cardiovascular alterations; (3) study of biomarkers involved in the development and progression of cardiovascular diseases; (4) study of the effects of immunosuppressants such as Cyclosporine A; and (5) study of neuronal pathway involved in pain transmission.
Scientific Contributions: She is author of 133 papers in extenso and 200 abstracts for national and international congress.