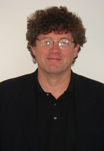 Experience
Dr de Groot received his BSc in law in 1980 and his medical degree in Utrecht in 1989. Subsequently he worked in orthopedics, plastics and micro surgery. He joined the Interuniversity Cardiology Institute of the Netherlands in 1993 to participate in ultrasound imaging components of atherosclerosis studies and statin intervention trials. After working for the Pfizer atorvastatin program from 1995 to 1999, he defended his PhD thesis on ultrasound imaging in atherosclerosis studies in 1999 (Leiden University). He joined the Department of Vascular Medicine of the AMC in 1999. In the Department of Vascular Medicine an imaging lab was created: AMC Vascular Imaging. This lab supports and performs single and multicentre academic studies and pharmaceutical trials. The aim of the lab is to provide innovative technology to understand the processes of atherosclerosis and cardiovascular diseases in the unaffected and in those at risk, as well as to investigate the efficacy of therapeutic disease prevention and treatment.
Research Interests
Dr. de Groot's research interests include non-invasive cardiovascular imaging and the modeling of atherosclerosis using standardized imaging techniques. Of particular interest are the development of carotid and brachial ultrasound and MRI imaging protocols as well their associated QC processes. The protocols tested and validated in the academic environment are shared as integrated application tools in epidemiological studies and controlled clinical trials. This includes training, technical and in-trial sonographer/image analysis support, as well as writing academic publications and study reports. The methods, protocols and standard operating procedures (SOP's) are also developed to perform imaging trials for pharmaceutical partners.
Achievements
Dr. de Groot authored and co-authored over 60 peer-reviewed publications and assists PhD students and doctoral fellows. He presently serves as a staff member for the Department of Vascular Medicine and Medical Director of AMC Vascular Imaging, Amsterdam, The Netherlands, as a Medical Director of Imagelab, Technical University of Eindhoven, The Netherlands and Medical Director of Eurovasc, Zürich, Switzerland.
Awards
Arterial wall remodeling mathematically described by standardized carotid intima-media thickness frequency distribution curves. 21st World Congress of the International Union of Angiology (IUA), Rome. Italy, May 2004 (First IUA Prize)