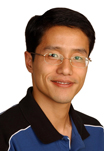 Jun-Hui Sun, PhD, currently works as a Staff Scientist in Cardiac Physiology Section, Systems Biology Center, National Heart Lung and Blood Institute, National Institutes of Health (NHLBI/NIH, USA) since 2007. Dr. Sun received his Ph.D. in physiology and neurobiology in 1998 from Shanghai Institute of Physiology, Chinese Academy of Sciences, China. From September 1998 to May 2003, he was a Postdoctoral Fellow and Research Associate in Department of Biochemistry & Biophysics, University of North Carolina at Chapel Hill (UNC-CH, USA). In June 2003, he joined the Laboratory of Signaling Transduction, National Institute of Environmental Health Sciences (NIEHS/NIH, USA) at Research Triangle Park as a NIH Intramural Research Training Award (IRTA) Research Fellow.
Dr. Sun's research interests include (1) Redox and intracellular calcium signaling and regulation in skeletal and cardiac muscles; (2) Role of nitric oxide (NO) in muscle physiology and pathophysiology; (3) Molecular mechanisms of cardioprotection against ischemic reperfusion injury. He has published more than 30 papers in peer-reviewed journals including Cell, PNAS, Circulation, Circulation Research, etc. He has received multiple awards for his excellent work including Richard Bing Young Investigator Award from International Society for Heart Research, NIH Fellows Award for Research Excellence, and Special Prize of President Scholarship from Chinese Academy of Sciences.
He is a member of American Heart Association (AHA) and International Society for Heart Research (ISHR). Dr. Sun has been served as a reviewer for multiples peer-reviewed journals and he is on editorial boards of Frontiers in Cardiac Muscle Physiology, Frontiers in Mitochondrial Physiology, Translational Medicine: Current Research, and Journal of Geriatric Cardiology.