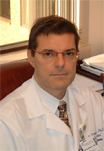 Name: Tiziano Scarabelli
Title: MD, PhD, FAHA
Institution: Department of Internal Medicine and Pharmacology, Wayne State University School of Medicine, Director, Center for Heart & Vessel Preclinical Studies; Director, Basic Cardiovascular Research; St John Hospital & Medical Center.
Address: St John Hospital & Medical Center, 22201 Moross Road, Professional Building II; Suite 350, Detroit, MI 48236, USA
Personal Homepage: http://www.med.wayne.edu/pharmacology/Scarabelli2.asp
Research Interests
Our area of interest in basic cardiovascular research is prevention of cell death. This topic is very crucial as cardiac myocytes, the cells responsible for the contraction of the heart, are non-renewable cells (that is, incapable of dividing). Therefore, once the cells undergo any type of irreversible damage, they are replaced by scar tissue, whose presence consistently reduces the pumping ability of the heart. Cell death is also the mechanism implicated in the destabilization of atherosclerotic plaques in coronary arteries, the blood vessels responsible for delivering nutrients to the heart. This destabilization results in the intravascular formation of a blood clot and eventually obstruction of the coronary vessel, leading to a heart attack or myocardial infarction. The obstruction of a coronary vessel culminates with cardiac ischemia, a situation in which a portion of the heart, which receives less blood than expected, finally undergoes irreversible damage, with the occurrence of two main different types of cell death: necrosis and apoptosis. Every year approximately 1.5 million people in the United States of America are afflicted by a heart attack. Almost 1 million of these cardiac ischemic events are lethal and account for over 40% of all deaths, thereby making coronary artery disease the number one killer in the USA.The major goal of our basic cardiovascular research is to develop and test new cardioprotective agents capable of minimizing the occurrence of cardiac cell death following a heart attack. This type of research is not abstract, or merely speculative; on the contrary, it is highly translational, since it has clinical applicability, moving from the bench to the bedside and vice versa, in the noblest attempt of saving human lives. Our basic cardiovascular research is initially carried out following three sequential levels of investigation:
In vitro: using primary cultures of neonatal or adult cardiac cells, or cardiac cell lines, such as HL-1 cardiac cells.
Ex vivo: using isolated hearts perfused and made ischemic by means of a Langendorff Perfusion Apparatus.
In vivo: in anesthetized small rodents, such as mice and rats.
When these three steps are completed, we commonly find validation of our experimental findings using our significant collection of human hearts (obtained from end-stage heart failure patients undergoing heart transplant and, as cardiac biopsies, from patients undergoing open-chest cardiac operations). Finally, upon completion of preliminary investigation of cardioprotective agents in animal models, the new drugs are tested in clinical trials to evaluate their safety and efficacy. As previously mentioned, necrosis and apoptosis represent the two major types of cell death by which a cardiac myocyte can die as a consequence of a heart attack. Necrosis commonly arises from fatal external insults and results in spillage of the cellular content, with subsequent inflammation. On the contrary, apoptosis is a highly controlled cell death process, which is autonomously committed by sub-lethally injured cells in response to ischemia. Since the apoptotic death process, unlike the necrotic demise, is initiated, executed, and finalized through a complex series of ordered biochemical events, specific interventions carried out at different levels of the pathway may arrest the apoptotic program, permitting cells to survive and even repair themselves. The reduction of necrotic and apoptotic cell death by means of new cardioprotective agents, potentially useful in the clinical arena, represents the major goal of our investigations.