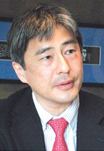 Junya Shite, MD, Associate Professor, Department of Cardiology, Kobe University Graduate School of Medicine, 7-5-1, Kusunoki-Cho, Chuo-Ku, Kobe 650-0017, Japan.
Achivement & Award
1999 American Heart Association (NewYork Affiliate) Post-doctoral
Fellowship Award
2010 Journal of American College of Cardiology, Cardiovascular Intervention Young Investigator Achievement Award 2010: Mentor.
Research Interests
Evaluation of chronic condition of drug-eluting stents using OCT; Detection of vulnerable plaque by OCT; Role of OCT for PCI guide.