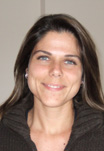 Marianna Mazza, MD, PhD
Assistant Professor, Department of Neurosciences, Catholic University of Sacred Heart of Rome, Via Ugo De Carolis 48, 00136 Rome, Italy
Major Experience: Mood Disorders, Psychiatric and Neurological Disorders and Psychopharmacology in Cardiology.
Achievement and Award: Professor of Psychobiology for undergraduates in Psychiatric Rehabilitation; Professor of Psychology of Emergence for undergraduates in Cardiological Physiopathology; Research Grant for Studies on Mood Disorders; Research Grant for Studies on biological bases of Bipolar Disorders; referee for more than 30 International Journals; author of more than 150 papers on National and International Journals.
Research: Scientific Research on Sleep Disorders, Eating Disorders, Mood Disorders, Dissociative Disorders, Pharmacotherapy and Psychotherapy; Epilepsy; Neuropsychiatry, Cardiology in Psychiatric and Neurological Disorders.